Put Your Records On: Paramore "All We Know Is Falling"
What's up Buzznet! I haven't written anything in so long! I miss you guys. But let's get to the point. The most awesome blogger, Tina, created this group and I automatically fell in love with the idea. So here's my first contribution to the "Put Your Records On" segment. This is the tale of how I became a Parawhore.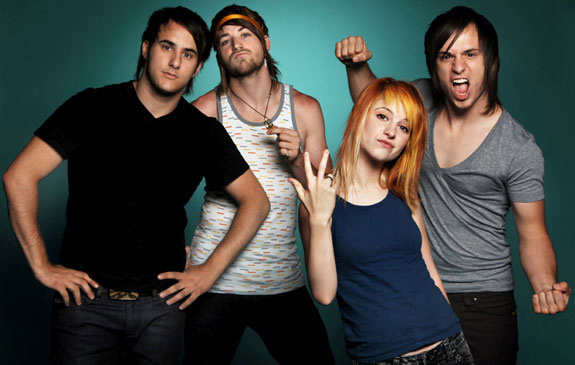 Ooooh yeah, using vintage Paramore lineup. Taking it waaaay back but not too back
It all started freshman year in high school (2006). I went to an all girl Catholic school where the rules were strict and rigid. We all wore uniforms but some girls managed to design their uniforms to fit their personalities. But there was this one girl that stood out to me the most. She was what you would call a "scene kid" (remember those days) and she always had a different band on her folder every week.
Man, people really did this. Oh my god! Why!
I was so shy back then but I finally found the courage to ask the girl about the band on her folder. She smiled and replied "Oh this is Paramore. This girl is the lead singer and she kicks ass. They're gonna be famous one day. I don't want that to happen but they're just that good."
So I went home and searched all over the internet to find their album, All We Know Is Falling. When I found it I couldn't believe how awesome it was. I couldn't get over how amazing Hayley's voice was. And I could not believe how beautiful the lyrics were. I listened to every single song that night over and over. There was no song that I did not love on that album.
Now whenever I hear any song from "AWKIF" I get filled up with so much nostalgia feels that I can't even contain it. I have to sing and dance and relive that moment I fell in love with Paramore. "AWKIF" will always have my heart.
Thanks for reading my story. I can't wait to see what's on your records soon!
You'll
♥
Loading related posts from sailthru...
---
blog
Lana Del Rey isn't wasting any time between albums! Ultraviolence, the gloomy diva's extremely underrated sophomore LP, was only released six months ago but
Partner